When we talk about hosting or hosting providers, or hosting plans, then we have to keep many things in mind. So in this article, I will tell you how to choose a hosting provider smartly.
So basically I am not writing here any formula or any expert opinion here to choose a host. In this article, I will just add how I choose a hosting provider. And what are the key points in my mind while choosing a hosting provider. So let's begin with the key point I will keep in mind while choosing a hosting provider.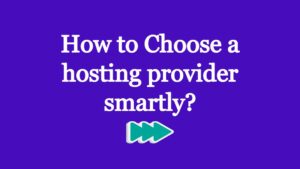 Key points of how to choose a hosting provider?
Here are some important things you should keep in mind and also you should focus on while choosing a hosting provider.
Hosting Type:
First decide which type of hosting you want you want a shared server, a VPS, or a Dedicated server. Let me tell you the difference between all these.
Shared server: In a shared server you will get a user account in some server with limited access. on the shared server, there will be your site as well as many other sites.
VPS: Big server is divided into small servers and you have all access to that at the root level.
Dedicated Server: A server that is 100% yours and you are the owner of that.
Shared hosting is the cheapest of all, VPS hosting is more costly the shared but cheap than Dedicated.
Now my recommendation is if you are using a normal blog site with a fresh start then get a shared hosting in the start and then upgrade. If you have some kind if good site then you can go with vps. But if you want to run a big business site then must go with the dedicated server.
Hosting Type (Managed hosting or Unmanaged hosting):
The first thing you should ask yourself is what type of hosting plan you want. Do you want a managed hosting plan? Do you want unmanaged or self-hosted hosting? Once this thing is clear to you then you can go ahead and see the possibility.
Now let me first tell you about the difference between managed and unmanaged hosting and then what is my suggestion on it. So Managed hosting is the hosting In which you don't have to take care of anything if any issue related to the server happens your provider is responsible to solve that. With the server that also provides you the support like cyberhosting.org and other combines. But on the other hand, Unmanaged hosting is the hosting where you have to manage each and everything of your service provider will only give you the server hardware you have to manage everything like hostinger in some cases.
Now if you are good with server sides things then must go with unmanaged and manage it yourself. But if you don't know about the Linux and server things then get a managed plan.
Manged is more costly hosting than unmanaged but in unmanaged you have to manage all things while managing the hosting provider you relax services.
Web Server or Stack:
The next and most important thing is which webserver you are going to use on your server. There are many like Apache, Nginx, LiteSpeed, and all others. So now the question is which one is best for you.
If you are going to use a VPS server then must go with a free version of LiteSpeed that is open LiteSpeed also known as OLS.
But mostly share servers use Apache and LiteSpeed ENT as well. Nginx is also a good option personally I like OLS.
Pricing:
So now come to the pricing good provider always have high pricing so what should you do? When we talk about hosting you should to take care more about the services provided by the provider.
So if you have a low budget then you should have to go for an unmanaged plan or shared plan.
But always go for a good service no matter if you have some level of high price.
Hosting Panel:
There are a lot of free and paid hosting panels. All depends upon which web server stack you selected for your server.

For Open litespeed you have:
CyberPanel
CloudPages
Gridpane
RunCloud
For LitSpeed ENT, Apache and Niginx you have:
Capanel
plesk
CyberPanel
CloudPages
Gridpane
RunCloud
Support:
This is something that matters a lot in hosting. And to judge this you have to take care and check few things.
Review of old clients about support
What support do you get in free trial or tes
This thing you can judge with experience.
Here you can read How to log in to the Rainloop admin dashboard?
Read More: How to Change Upload limit On CyberPanel?
How to Change Upload limit On CyberPanel?
You can follow us on Facebook too.